Lakeview Kids!
Lakeview Kids is founded on the three main components of outreach, discipleship, and family. In every event or ministry we do, we teach the word of God in an age appropriate manner, seek for kids to experience positive relational connections, and provide room for the Holy Spirit to work.
Outreach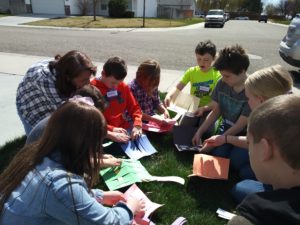 Children make real, lifelong decisions to follow Jesus. Consequently, we put a major emphasis on reaching the next generation for Jesus. We go to where people are and we also invite people in. Going out, we endeavor to build relationships with local schools by meeting the physical needs of families, helping teachers by reading to kids, and hosting after school clubs that teach the message of hope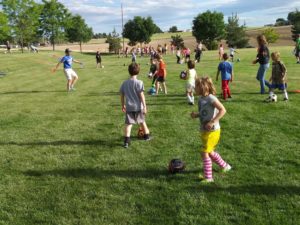 found in the Bible. For a week during the summer we go to neighborhoods and parks leading Bible clubs for kids. These are filled with fun and the message of the cross.
We also invite kids and families in by hosting a few outreach events throughout the year. These include a Thanksgiving celebration done during the week of Thanksgiving when kids are out of school as well
as a dodge ball camp done over spring break. Additionally, in the summer we host Kicks for Christ, an evangelistic soccer camp, and a Harvest Party in October.
Discipleship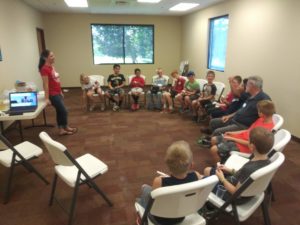 The need for spiritual growth in our little ones cannot be overemphasized. We want children to not only know the central message of the Gospel but also the many other truths of Scripture that lead to a godly life. We invest deeply in our Sunday morning and Sunday evening ministry in the hope of teaching children the deep truths of the Bible.
Our weekly nursery, kids' Sunday School, Pre-K church, and children's church are fun,

interactive

times where kids experience God through age appropriate lessons. On Sunday evenings, we host

Awana, an international ministry focused on Scripture memory and discipleship. Then the first

Wednesday of every month is Be Bold, a life group for our 4

th

and 5

th

graders. This monthly meeting focuses on the questions that 4

th

/5

th

graders and many others wrestle with. Questions like, "Is Jesus really the only way to God?" Be Bold provides a safe place for kids to ask real questions and receive biblical answers.
Family
We believe God has instituted the family to be the primary discipleship vehicle for children. Parents invested in their children raise godly, well-adjusted kids, who are prepared for the challenges of adolescence and beyond. The role of the children's ministry in this is to come alongside parents in the thrilling yet daunting task of parenting.
Every semester we hold classes on Sunday evenings designed to invest in parents and the home. We've done a marriage class,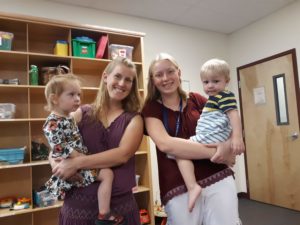 parenting class, Financial Peace University, and a class on discipleship in the home. We also host a couple date nights and a family night throughout the year.
Because parents are so influential in the spiritual development of their children, a portion of each Sunday morning families worship in song together before being dismissed to children's/Pre-K church. Also, every fifth Sunday is Family Worship Sunday where families come together for the entire church service. An effort is made to do communion during a couple of these Family Worship Sundays for families to receive this sacrament together.